Top 10 Largest Automobile Manufacturing Companies in the World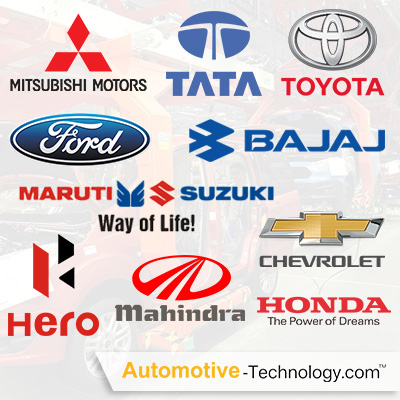 The automobile (automotive companies) sector has mushroomed over the years into a mature and well established industry. Innovation and manufacturing of vehicles has helped the industry to grow into a profitable one. Automobile companies have contributed significantly to the development of the world's economy by creating jobs paying lots of taxes and earning loads of foreign exchange. There are several automobile manufacturing companies in the world that produces vehicles in a large quantity.
Here we have listed the top 10 largest automobile manufacturing companies in the world.
1) Tata Motors:
Tata Motors is the Asia's largest and 17th largest automobile manufacturing company in the world. This company is known for its production of cars, trucks, vans, coaches and so on. Tata Motors record the highest sales and is widely popular across the country in 2017.
This company is passionate about anticipating and providing the best commercial and passenger vehicles globally as well as the best customer experiences.
Key facts:
| | |
| --- | --- |
| TATA MOTORS Established | 1945 |
| Employee Strength | 60,000 |
| Company Turnover | $42 Billion |
| Vehicles Sold | >9 Million |
| Sales & Service Points | >6, 600 |

Tata Motors can be found on and off-road in over 175 countries around the globe. Cars, buses and trucks of Tata Motors roll out at 20 locations across the world, seven in India and the rest in the UK, South Korea, Thailand, South Africa and Indonesia.
2) Mahindra & Mahindra Ltd:
Mahindra & Mahindra Ltd is a US $19 billion global federation of companies. This company is the world's largest tractor manufacturing company and also India's second largest vehicle manufacturing company. Mahindra & Mahindra is India's top SUV manufacturing company that produce two wheelers, bus, pickup, tempo, trucks, and commercial vehicles.
This company commits to invest in technology and grow global presence. Mahindra & Mahindra aims to multiply output both in quantity and quality with a major focus on manufacturing excellence. This company has created several industry-leading and category-defining brands.
3) Maruti Suzuki:
Maruti Suzuki had brought a big revolution in the automobile industry. This is one of the old companies that expertise in the field of production of cars. This company has manufactured cars such as Alto, Omni, Estilo and so on. The total annual production capacity of this company is about 14, 50,000 units.
Maruti Suzuki works with a mission to provide a car for every individual, family, need, budget and Way of Life. For this, it offers 15 brands and over 150 variants ranging from Alto 800 to the Life Utility Vehicle Maruti Suzuki Ertiga.
4) Hero MotoCorp Ltd:
Hero MotoCorp Ltd is one of the best companies in India. Hero MotoCorp Ltd. (Formerly Hero Honda Motors Ltd.) is the world's largest manufacturer of two - wheelers, based in India.
This company achieved the coveted position of being the largest two-wheeler manufacturing company in India in 2001 and the 'World No.1' two-wheeler company in terms of unit volume sales in a calendar year. Hero MotoCorp two wheelers are manufactured across 4 globally benchmarked manufacturing facilities.
5) Bajaj Auto Limited:
Bajaj Auto Limited is one of the leading business houses and the company's flagship company, Bajaj Auto, is ranked as the world's fourth largest three and two wheeler manufacturer.
The Bajaj brand is well-known across several countries in Latin America, Africa, Middle East, South and South East Asia. Their flagship company produces Chetak scooters which were the top seller in the Indian market. The company even made the bikes like pulsar and now they are still working on it.
6) Toyota Motor Corporation:
Toyota Motor Corporation is one of the top most automobile manufacturing companies in the world. This company designs, manufacturers and markets various automobile product ranges from SUVs, minivans, luxury & sport utility vehicles, trucks and buses among others.
Toyota Motor Corporation has other vehicle manufacturing subsidiaries which include Daihatsu Motor for the production of mini-vehicles and Hino Motors for the production of buses and trucks. Toyota car engines are fixed with either combustion or lately the hybrid engines such as the one in the Prius.
7) Chevrolet:
Chevrolet is an American division of the General Motors. The company has an array of trucks, automobiles and commercial vehicles as the products it offers with its services including oil changing, vehicle insurance, vehicle financing, vehicle sales and vehicle repairs. Chevrolet has the reputation of being a car of all the purses and all the purposes. Its wide range of vehicles includes subcompact automobiles and medium duty commercial trucks among others.
8) MITSUBISHI MOTORS CORPORATION:
Mitsubishi Motors Corporation develops design, and manufacture, sale and purchase automobiles and component parts, replacement parts. This company manufactures component parts, replacement parts and accessories of said used automobiles.
Mitsubishi helps to bring higher productivity and quality to the factory floor. In addition, extensive service networks around the globe provide direct communication and comprehensive support to customers.
9) Honda Motor Co Ltd. Company:
Honda Motor Co Ltd. Company is a world leading automaker and the largest motorcycle producer in the world. Its motorcycle lines feature everything from super bikes to scooters, with the company also being dedicated to the production of personal watercrafts and ATVs.
The models of this company include seven luxury vehicle models as well as SUVs and others. Within its lines are also Honda Power products and machinery such as snow blowers, tillers, lawn mowers, outboard motors and portable generators. Engine quality, durability and economic fuel consumption are the main reasons why customers prefer Honda machines.
10) Ford Motor Company:
Ford Motor Company is one of the leading automobile manufacturers in the world that ranks high among the top automobile companies. Some of its most staple brands include Lincoln, Taurus, Focus, Mustang, and Fiesta etc.
The company's automobiles are characterized with luxury under the Lincoln Marque brand, with other brands being good for sports and off-road performances. In the past, Ford manufactured some of the best, trucks, buses and tractors.
see your banner here